My Mock Orange is blooming. My Rose Bush is blooming. My Spirea, Bradford Pear tree and Lilacs are done blooming. It's only April. I feel like there will be nothing left come May and June. It's a little sad to have so much beauty all at one time and not be able to spread it out a little bit. Isn't it?
There is an abundance of beauty in life, every day… everwhere. Does it ever run out? … Maybe it just changes forms. Yes, beauty comes in different forms.
Today, I was having trouble seeing any beauty. I was in the pantry – painting. The same thing I've been doing for the past month. I was sweaty and tired. I was griping to myself (and to everybody that walked into the kitchen). I was feeling a little like I felt when I was in the transition stage of labor. Women who have birthed children know what that's like. It's the stage of the birth process when you're tired and you decide you're just not going to finish. You are done!
Yes, I was in painting transition today. I was on the second coat of primer and I knew after spending several hours doing that, I would still have to paint another coat. Argh. Beauty? What's that?
When I was done with that coat, I went and laid down with Harrison. It was our first nap together in weeks! I was in cuddle my baby heaven! I read him as many books as he wanted (I think we stopped at 5), and then we cuddled and fell asleep. I was so tired, but I didn't sleep long. Just long enough. After that I got up and walked outside and saw my mock orange bush. I picked a little sprig and smelled it over and over again. (If you haven't ever sniffed a mock orange you are missing something very special.) Then as I walked back to the house, I spotted a rough, chipped area on the porch stairs and it hit me. A little beauty can provide inspiration to the rough spots of life. That's the perspective I chose to keep today.
We have worked so hard on the house, and it's getting so close to being done. I just need to continue to find the little pleasures along the way – and stop to look at what's already been done!

Before
"
After
This weekend, Kyle will put this pretty laminate flooring in. I cannot wait to see it done!!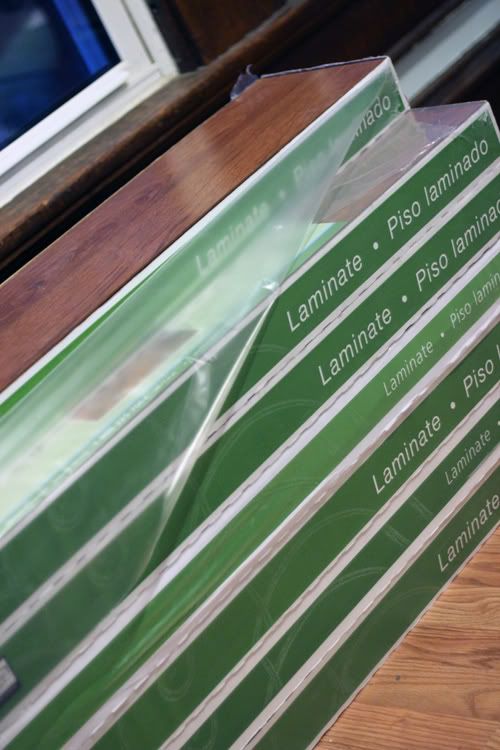 I'm going to go to bed now. Have to be full of energy to put that final coat of paint on in the mornin'! ha! But, I just wanted to get on here and share the lesson of the day with you. I wish I could always do the right thing the first time – "Oh what a wretched woman I am!" (Trying to sound like the Apostle Paul. ha!)
Oh, and I did a post on the He Heard Hannah website if you want to go and read there. I just wanted to take a minute to thank those who participated in the book blog tour (and those who have done reviews on their blogs). If you have read (or are going to read) He Heard Hannah and do a review on your blog – let me know and I'll post your review there too!
Have a beautiful Friday!
Love,
Lynnette