Bio
Lynnette Kraft is a creative writer and uses story-telling to communicate the beauty of restoration, the value of hope, and the power of selfless love. She has published non-fiction works and is currently enjoying the imaginative freedom and exciting challenges of writing fiction. Lynnette is passionate about serving God, spending time with her beloved family and marveling over the beauty and splendor of nature.
Books
INGRID (In the Works!)
By Lynnette Kraft with Jared Kraft & Abigail Kraft
Timeless Tale. Enchanting Music. Captivating Artwork.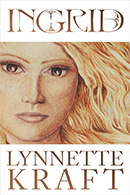 Sixteen-year-old, Ingrid Harrison lives with her parents and seven brothers in a small village called Scot. She is loved, provided for, and given every reason to be happy; but because she is mute, she feels isolated and holds resentment. In the largest, darkest cottage in Scot, a different strain of bitterness is wreaking havoc . . . and it's growing more powerful. What's more? Ingrid Harrison is the only one who can make a difference. Will the silence she has always resented, be the voice that changes everything?
---
He Heard Hannah
By Lynnette Kraft with Courtney Becker
He Heard Hannah Website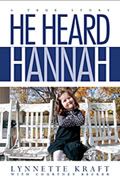 In an amazing true story, two lives are inexorably interwoven. Courtney Becker, a 911 dispatcher, took a call on November 19th, 2004. That call for help resulted in a saved life, but not the life you might expect. He Heard Hannah is an incredibly emotional, yet inspiring story of spiritual perseverance and finding hope in times of despair. This true story proves that miracles do happen, tragedy can lead to beauty, and our most painful moments can be overcome with the hope of a Savior.
Order a signed copy by adding to cart. 
(US Only, Please)
Or Order From Amazon Here: He Heard Hannah
---
In Faithfulness, He Afflicted Me
By Lynnette Kraft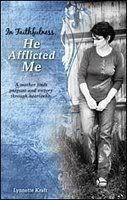 In Faithfulness, He Afflicted Me is Lynnette's story, beginning with her marriage to Kyle. When they dreamed of their future together, they never anticipated the trials and heartaches they'd be called to endure together. God blessed their marriage with children and also strengthened their marriage and their faith through the loss of children. This book is a candid and honest view of suffering and healing. Lynnette will take you on her painful journey but will also lead you to a faithful and loving Savior who never left her without hope. 
Or Order From Amazon Here:In Faithfulness, He Afflicted Me
Contact
To contact me, fill out the form below, or email me at blogging (at) lynnettekraft (dot) com
Recent Facebook Posts
I decided a bath sounded nice. I filled my tub and added a couple of scoops of epsom salts. I plugged my phone into my handy speaker and chose the Julie and Julia soundtrack. I was ready to reeeeelaaaax.
I get in, lean back and . . . feel the bathtub shaking a little bit. I then realize that my husband's electric guitar is rattling the house – well, at least the bathroom. You see, the place he plays his guitar is directly below the bathroom with the largest tub – the tub I was ready to relax in.
I rebel and turn my music up.
I lean back and realize – my music still isn't loud enough for me to hear without hearing his guitar, so I turn it up – all the way.
Guitar still wins.
I just shake my head and tell myself – Lynnette, he's your forever teenager – and decide to put up with the combination of Julia and Julia, rock guitar, and a tub that feels like it's about to fall through the floor.
Yes, I'm the wife of a rocker, and it's one of the reasons I fell in love with him. <3
*And then I went down to take a picture and he gave me – the look of innocence. ha!